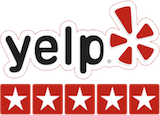 5 stars out of 691 Yelp Reviews
"If you're moving and requiring some help, look no further than New City Moving. This team is friendly, fast and affordable. Tim was responsive and professional. He set me up with a great crew who was on time and extremely efficient. They also came in under budget. Make sure you book ahead, because these guys get booked up far in advance!
(5 / 5)" - Ryan G. "Phenomenal! Words cannot express how professional these guys were and efficient. There was a team of 3 that arrived on Sunday morning Alex and his crew. I wanted to use their services for packing as well which is what I did for the very first time, in addition to their storage services. The night before I removed everything out my cabinets and grouped items to sort of save time and money. The crew was impressed by the assistance I provided to them in order to move fairly quickly. I left the guys to work and returned in about 45 minutes in and my apartment was half way packed! I could not believe it. I was quoted for about 5 hours of service which ended up being 2 plus, wrapping, boxes and storage costs. What a gem in the city when everything seems to be such trash nowadays.
(5 / 5)" - Shelby C. "This was my second time using New City Moving. What an amazing team we had!!! Javier O, Ruben, Alberto, and Jose A took such great care of our packed up home! They are such hard workers and were obviously experts in this kind of white glove service. I seriously can't imagine having to do anything they did by ourselves--and they made it so much easier for us and our move. Thank you New City Movers!!! Can't wait to use you again.
(5 / 5)" - Sarah D. "We have used New City Moving for years moving around Chicago. Wonderful company and fairly priced. We are now relocating to Milwaukee. They now are doing interstate moves and the process has been sweet thus far. They do a virtual walk through and type up your estimate from there. Hopefully interstate moving is as good as their local. :)
(5 / 5)" - Andrew M. "Christian, Ray and Jeremy are our moving superheroes! They met us in the late in evening after a long work day to move my boyfriend's 4.5 year old storage unit into our new apartment. They moved us quickly and efficiently and were friendly along the way! Thanks so much! [user 5]" - Amanda A.